2. Maharishi Samadhi Smarak
The beginning stages of construction are underway for a beautiful Vedic memorial in Allahabad, India, to honour the life and teachings of His Holiness Maharishi Mahesh Yogi. The building, to be called the 'Maharishi Samadhi Smarak', is designed according to Vedic Temple Architecture, and will be unique in the world today. The outside will be constructed of beautifully carved and ornamented stone, and the interior will contain pure white marble pillars, ceiling, and a central dome. Built entirely of interlocking stones and granite beams, without iron reinforcement, the building will last for thousands of years.
A large Vedic Gate will greet pilgrims and visitors, situated at the beginning of a 200 meter connecting, raised, pilgrimage pathway leading to the Smarak (memorial of knowledge). On the right and left of this road will be twelve Vedic Mandaps (halls dedicated to twelve aspects of Total Knowledge). People will journey from around the world to experience profound transcendence in this special memorial honouring Maharishi and his gift of Total Knowledge to the world.
Click on picture for further information.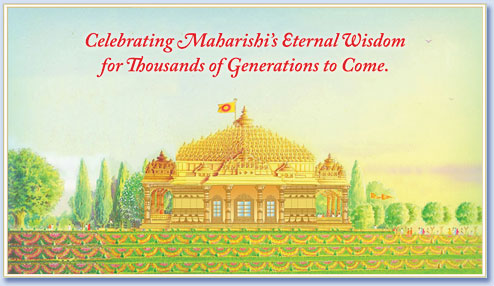 Action for Achievement: 1 | 2 | 3 | 4 | 5 | 6